AustraliaChess.com
Hot Item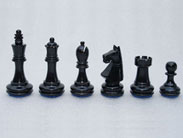 About Us : Wooden Chess Manufacturer
AustraliaChess.com is a company, located in Java, Indonesia, and founded in 1991, which designs and manufactures high quality chess sets and chess accessories, specializing in large-to-giant pieces (with beautifully coordinated boards and tables) that are prized by players of all ages, collectors, decorators, and lovers of fine art the world over.
On this present we have distributor in USA - Canada - UK - German - Italy - Benelux - Australia - New Zealand - and others countries
Our products are made of the finest materials, especially original Indonesian teak, prized for its strength, the beauty of its grain, and because it is highly suited to finely engraved sculpting.
Because of the quality of our work, and our dedication to serving our customers needs, our customer base has steadily expanded to every continent since our founding, especially in America and Europe, allowing us to export our products to individual buyers, chess clubs, companies, distributors, schools, malls, recreational facilities, and hotels (including The Four Seasons, the Shangrila, and the Delano, to name just a few).
We are also able to serve wholesalers who wish to carry our products, as many now do.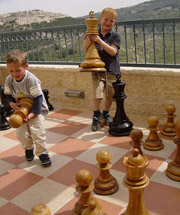 We can custom design chess sets of any size, but a standard decorative chess set of ours has a king with a height of 24", the smallest has a king with a height of 8," whereas the largest has been recognized, as noted on our home page, by the Guinness Book of World Records as the largest in the world.
Very few firms, if any, can match either the manufacturing standards we hold ourselves to or the elegance of our designs, and, as a consequence, in addition to the many different types of people, and even businesses, who purchase our sets for both play and as decorative art, we are also becoming the first choice of professional chess players, chess exhibitions, and for chess festivals everywhere.
We take great pride in the quality of our work and look forward to serving your needs.


GiantChess.com
Wooden Giant Chess Manufacturer
http://www.giantchess.com
email : info@giantchess.com