AustraliaChess.com
Hot Item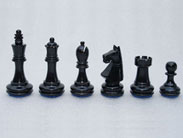 Wooden Checkers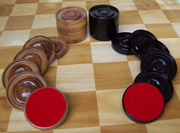 A Set of Checkers consists of 24 Checker pieces, 12 pieces are dark and 12 pieces are light. All of AustraliaChess.com Checker sets are artfully and sleekly designed with the checker lover in mind, using the expertise of our highly skilled Indonesian artisans. The main material being cherished Indonesian teak.
3" Diameter: This is our smallest Checker set, and so the most easily carried. The size of the pieces fit nicely and comfortably into the hands of a child, making it a children's favorite. It can be played both indoors and outdoors.
4.5" Diameter: This checker set, crafted as all the rest in beautiful and durable Indonesian teak, has pieces which are 4.5" in diameter, and so is also very compatible with play by children, indoors or outdoors.
6" Diameter: This set, again using the finest Indonesian Teak Wood, though considerably larger than the previous two sets, is still quite portable and suitable for play indoors or outdoors by lovers of checkers of all ages.
9" Diameter: This 9" Checker set can be attractively placed in any room of the house, on a terrace, or outdoors, ready to be played and enjoyed by all members of your family. It is easy to maintain, and is not too large that it can't be stored easily when necessary.
13.5" Diameter: This Checker set, too large for most tables, is particularly suited to be being placed on the floor, there to be played with and enjoyed by all members of your family. It is also suited to being carried outside and played on the lawn or transported to the beach.
18" Diameter: This giant Checker set, like the one above, requires a larger space than a table, such as the floor of a living room, or in a large family room where it can, once again, be played and enjoyed by all members of your family, It can also be transported outdoors when desired.
27" Diameter: This giant Checker set is the biggest set that we produce at AustraliaChess.com. It is 27" diameter and ideal for being played outdoors, or in a large playroom in the house. And it is still not too heavy that it can't be transported.

» View Wooden Checkers Photo Gallery