AustraliaChess.com
Hot Item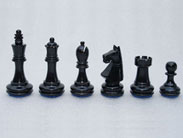 Care & Maintenance
All of AustraliaChess.com products are made of original Indonesian Teak wood. Teak wood, and Indonesia Teak in particular, has an excellent history in being used in the manufacture of high quality and durable furniture products. It is because Teak wood is highly water-resistant that products manufactured or created from it avoid the brittleness to which many other woods are susceptible. It is for this reason that Teak furniture and other Teak products, including our chess products, can be enjoyed outdoors, as well as indoors, being preserved in all seasons and in all weather.This is the reason, above all others, why AustraliaChess.com chose, from its very beginning, this wood as the main material for its products, including chess pieces, checker pieces, accompanying boards, tables, and other equipment. We take special care in seeing that the Teak wood we use in our products is completely dry and cured before use.
Our company is currently setting the standard to which all other companies that produce chess products aspire, and our exclusive products are known and treasured by people the world over. It is, in large measure, because we use original Teak wood from Indonesia, taken from Perhutani, the legal forestation department in Indonesia, that assures high quality. The talented sculptors and artisans of Indonesia, intimately familiar with working this prized material, are, in a sense, presenting some of their finest art and most unique work through AustraliaChess.com to be enjoyed by consumers everywhere.
You can put our Teak wood chess products indoors or outdoors without worrying about their being damaged by the elements or that their form will change over the years. At the same time, if you want to keep them beautiful and gleaming, they are easy to maintain, using a wet cloth to remove dust or dirt, and a clean cloth to polish. If not in use or on display for any period of time they can also be covered to eliminate the need even for this.
You can, of course, also store your chess pieces to keep them clean and safe if desired, depending on size, in a box, under a bed, in a room or warehouse. If your Chess pieces or other chess equipment should begin to lose its luster over a long period of outdoor use or display, an application of varnish can easily bring the shine back.
But whatever the case may be, please know, before you order, that we are a company that takes as much pride in satisfying our customers as we do in the high quality of our products, and so if you ever have trouble with maintenance of, or defect in, our materials, we will readily provide you with an exchange. You should not have to worry about maintaining our products, especially our teak products, and we will treat you as well during the lifetime of their use as when you first purchased them from us.